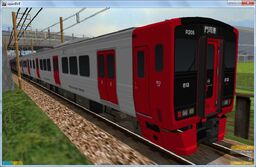 OpenBVE Train Simulator allows driving your choice of train on your choice of routes.
The program & addons are free, public domain, open source. They run on Windows, Linux or Mac.
Wiki Rules
All are encouraged to create an account and contribute. Click the link at top right of this page.
Create only 1 page per country, 1 section for simular addons, or just edit existing pages or sections.
This site does not host addons. Upload your addon as a ZIP or 7Z or RAR to a file server or your own website, then post the link here.
Membership, password, or pay requirements for downloads should be avoided; blatantly commercial entries may be deleted by the admin.
Post only relevant information about and links to freely and currently downloadable addons. No previews, pre-announcements, or "alpha" stuff.
Before deleting "dead" links, they should be "revived" if possible via the "Wayback Machine" at http://archive.org/web/web.php
Use the comment section on each page for questions or discussion.
No "add this" or "build this" requests. Developers make and publish addons at their own discretion, time, and expense.
Use proper "netiquette"; don't spam, flame, or maliciously edit this wiki. Trolls will be warned, then banned.